*DON'T READ ALL THE WAY TO THE END IF YOU DON'T WANT MAJOR SPOILERS!!!!*
Title: Curses and Smoke – A Novel of Pompeii  
Author: Vicki Alvear Shecter
Rating:⭐⭐⭐⭐
I have been looking forward to reading this book for at least a year I think, and now I've finally go around to it. And I'm glad I did, because it was great. Curses and Smoke is my first Historical Fiction read of this year (2017), and I'm just so pleased with the book. But to be honest Lucia wasn't a great main character. The cover of the edition I read looks amazing. With the girl on the front and then the erupting volcano, I just think it all works out so well. 
The one thing I don't get is WHY WEREN'T THEY RUNNING FROM THE VOLCANO??????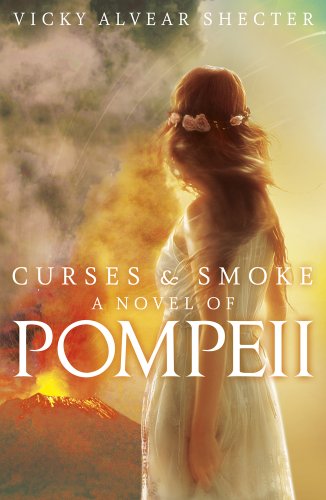 TAG is a medical slave, doomed to spend his life healing his master's injured gladiators. But his warrior's heart yearns to fight in the gladiator ring himself and earn enough money to win his freedom.
LUCIA is the daughter of Tag's owner, doomed by her father's greed to marry a much older Roman man. But she loves studying the natural world around her home in Pompeii, and lately she's been noticing some odd occurrences in the landscape: small lakes disappearing; a sulfurous smell in the air. . . .
When the two childhood friends reconnect, each with their own longings, they fall passionately in love. But as they plot their escape from the city, a patrician fighter reveals his own plans for them — to Lucia's father, who imprisons Tag as punishment. Then an earthquake shakes Pompeii, in the first sign of the chaos to come. Will they be able to find each other again before the volcano destroys their whole world?
Well, it wasn't amazing. It was good though, but the characters… mmm they were OK. I didn't really like Lucia, she's a bit of a whiner. And Tages, he just wasn't the best either.
Oh my god I just can't believe Lucia and her father died!!! It kind of ruined the book in my opinion. They we're all safe, far away from the volcano and then Lucia's father accidentally stabs her. And then he just falls of a cliff and dies. What a great way to end a book.