*this is gonna be a short(ish) review
I had something different in mind.
Okay, can I just say that this was NOT what I was expecting AT ALL!? But I liked it. It wasn't AMAZING, though it was good enough (I can't remember what I rated it on Goodreads…). But that twist near the end was just… ♥️.
The characters… were okay. I liked them, though I didn't. Which probably doesn't make any sense at all, so I'll stick with saying they're ok.
Maddy. She's a bit, idk, of a moany person. Well I really don't blame her, I'd be moanier (idk if that's a word)if I were stuck in a room all LIFE long (note that I said life not day). But anyway. I like the 'spoiler reviews by Madeline' thing, which I'm thinking no one even remembers about… but still!
Olly. HMMM. idk either. It I found that the descriptions of the characters and stuff like that were a bit vague, so I don't really know much about them. But, I suppose, what is there to know about Madeline? Not that much I know. Well. Back to Olly. According to the blurb on the back of my book, 'He's tall, lean, and wearing all black – black t-shirt, black jeans, black sneakers and a black knit cap that covers his hair completely.' Well, I now know that he seems to like black and has hair. INTERESTING…
Okay so the story wasn't amazing, and I'm not fangirling over it, but can we please take a look at that cover?! #goals. I know. Well, I don't know about other editions, but this is the edition I've got.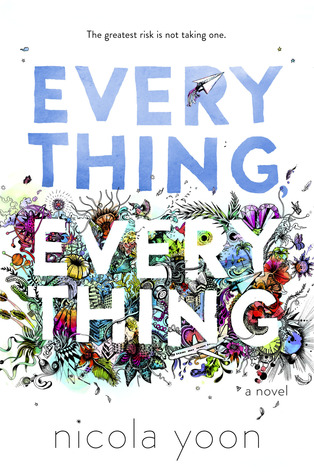 ---
OH YA. I recently found out that this is now a movie. Lemme just add watching that movie to my ever growing mental bucket list… M'kay!
---
Nicola Yoon is the #1 NYT bestselling author of Everything, Everything, which is now a major motion picture, and The Sun Is Also a Star, a National Book Award finalist, Michael L. Printz Honor Book and Coretta Scott King New Talent Award winner. She grew up in Jamaica and Brooklyn, and lives in Los Angeles with her family.
---
My Rating:
---
CREDITS
EVERYTHING, EVERYTHING COVER: